2023
CIA OPEN
SPRING
INVITATIONAL
SANCTIONED SHOW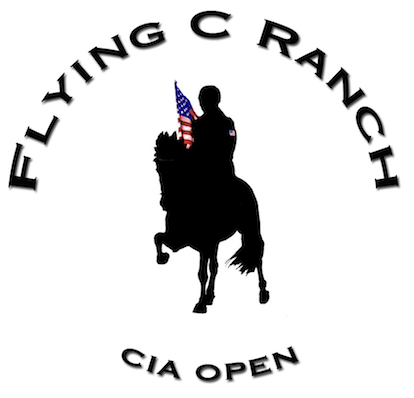 AT FLYING C RANCH
3600 ROBLAR AVE.
SANTA YNEZ, CA 93460
April 15-16, 2023
805 688 1393
WWW.TOLT.NET
CLASSES
Open
T1 - Tolt *
T2 - Loose Rein Tolt *
V1 - Four Gait *
F1 - Five Gait *
P2 - SpeedPass - Pace Race 100m with flying start
Open Group classes
T3 - Tolt *
T4 - Loose Rein Tolt*
V2 - Four Gait *
F2 - Five Gait *
Intermediate
T5 - Tolt *
V3 - Four Gait *
T6 - Loose Rein Tolt *
F3 - Five Gait *
Novice
T7 - Basic Tolt *
V5 - Four Gait *
Youth Teens 14-16
T8T - Tolt *
V6T - Four Gait *
Youth Kids 10-13
T8K - Tolt *
V6K - Four Gait *
Youth 9 and under
T8 - Tolt *
V6 - Four Gait *
Beginning Rider
TBR - Tolt
VBR - Four Gait
Green Horse
TGH - Tolt
VGH - Four Gait
GF2 - Five Gait

FUN CLASSES
T8F - Pleasure Tolt
V6F - Pleasure Four Gait
3GC - Three Gait Class (Tolt, Trot, Walk)
LLC - Leadline Class (7 years and under)
PAIR - Pair Class (1 pair at a time – 2 rounds each – 1 turn around required – Variety and creativity Rewarded!)
*National Ranking

CLASS ELIGIBILITY

Open:
Any rider 14 years and over. Both Individual and group classes are offered due to the USIHC National Ranking.

Pace disciplines :
Any rider 14 years and older.

Intermediate:
Any non-professional rider who has not achieved a final score of 6.0 or higher three times, riding the same or different horses, in a specific discipline at USIHC sanctioned competitions.

Novice:
Any non-professional rider who has not achieved a score of 5.0 or higher three times, riding the same or different horses, in a specific discipline at USIHC sanctioned competition. In other words, a rider who has achieved a score of 5.0 or higher three times in Novice Tolt is ineligible to enter that class again and must advance to the Intermediate level in Tolt. This rider may continue to compete as a Novice in the other discipline until he/she achieves a score of 5.0 three times in those remaining Novice classes. Thereafter he/she must advance to Intermediate Division.

Youth:
Riders up to 16 years-old.
The Youth Classes are split in 3 age groups.
Youth 9 and under (born 2014 or later), Kids 10-13 (born 2010-2013) , Teens 14-16 (born 2007-2009)
Beginning Rider:
Any non-professional rider who has not achieved a score of 5.0 or higher three times on any horse in any discipline in USIHC sanctioned competition.
Green Horse:
Any rider with a horse that has little or non experience showing.
Fun Classes:
Any rider.

Finals:
Top 5 in each class from Saturday.
IMPORTANT
Please have your registration mailed by April 8th and make the check payable to Flying C Ranch. $25 will be charged to each rider not signed up by April 8th,
A blank check on file will be required before classes begin Saturday morning.
All entries are accepted with the understanding that the owners of Flying C Ranch, The California Icelandichorse Association or the United States Icelandic Horse Congress will not be held responsible for any loss, damage or any injury to any horse or rider exhibiting. This is a USIHC
sanctioned event. Therefore FEIF rules apply. It is recommend that these rules be reviewed prior to arrival. The FEIF Rules also explains each class and what the judgments are based on. This can be found at www.FEIF.org

- An additional fee of $25.00 must be paid for any horse not registered with the USIHC.
- An additional fee of $25.00 must be paid for any rider not a member of the USIHC.
- Youth participants are covered under their parent membership.

The judge shall be responsible for interpreting all FEIF rules and regulations has the authority to make final decisions regarding all competition questions.


A judges meeting Friday night at 6pm at Flying C Ranch
bring your equipment for a check and any questions you might have for the judge.
We will have a MexiCali taco dinner so make sure you sign up for that. $25 per person.
©2004-2023 CIA - All Rights Reserved.